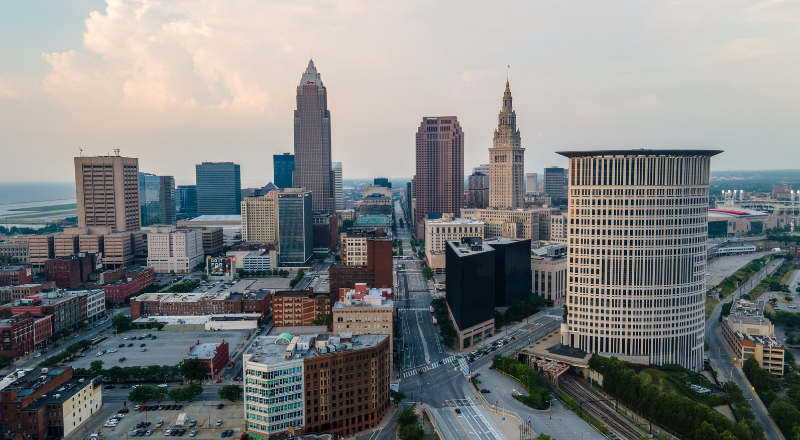 If you're looking for some exciting activities to enjoy this weekend, you're in the right spot. Our local community offers an array with this week's list of 7 fun things to do in Cleveland, Ohio. The includes music performances, cultural events, sports games, and art exhibitions. Whether you're a local resident or just visiting, there is something for everyone to enjoy in this vibrant city. So get ready to explore the city, make new memories, and have a great time!
1. Cleveland Sports Frenzy: Cavaliers and Monsters Games at Rocket Mortgage FieldHouse
Cheer on the Cavs as they take on the Grizzlies at the Rocket Mortgage FieldHouse. If you want more action, the Monsters are playing a series against the Chicago Wolves over the next two days. Ticket prices for the Monsters start at $10, while the Cavaliers start at $38. The games take place from Feb. 2nd to 4th at various times. Find more information at rocketmortgagefieldhouse.com/events.
2. Angel Olsen live at the Agora Theater & Ballroom
With her latest album "Big Time" releasing less than a year ago, fans can expect a set list filled with new material and crowd favorites. Arrive early for the opening act, Erin Rae. Ticket prices range from $30-$55, with the show starting at 8 p.m. on Feb. 2nd. Find more information at agoracleveland.com
3. Basket Weaving in the Woods at Swine Creek
Just because the weather is cold doesn't mean you can't have fun. Join the basket weaving workshop in Swine Creek this weekend and get in touch with nature while creating your own round-bottom basket decorated with pine trees. The event takes place on Feb. 3rd from Noon to 5:30 p.m. at 16004 Hayes Road in Middlefield. Reserve your spot at reservations.geaugaparkdistrict.org.
4. Cleveland International Film Festival at Playhouse Square
Attend a night of short films and tasty hors d'oeuvres with the Cleveland International Film Festival (CIFF). Be a part of the process by voting on which short films you think should be included in the 47th annual film festival. The event takes place on Feb. 3rd at 7 p.m. at Playhouse Square, 1511 Euclid Ave, Cleveland. Ticket prices range from $48-$60. Visit playhousesquare.org for more information.
5. Go Shopping at the Cleveland Bazaar Valentine
Still looking for a gift for your special someone? Visit the Cleveland Bazaar Valentine event at 78th Street Studios for a wide range of locally crafted artisanal products, including art, jewelry, and decor. Enjoy brunch cocktails and get your picture taken by Extraordinaire Photos. The event takes place on Feb. 5th from 10 a.m. to 6 p.m. at 1305 W. 80th St, Cleveland. Admission is free. Check out their Facebook page for more information.
6. The Great Big Home & Garden Show at I-X Center
Get ready to be amazed at the Great Big Home & Garden Show at the I-X Center. With over 600 booths filled with home and garden products and displays, you're sure to find something you love. Entertainment for the evening includes a performance by HGTV's Joe Mazza and talks from industry professionals. The event takes place from Feb. 3rd to 12th at 10 a.m. at 1 I-X Center Drive, Cleveland. Ticket prices range from $5-$13. Visit greatbighomeandgarden.com for more information.
7. The Musical "Hadestown" at Cleveland's Playhouse Square
Catch the Tony Award-winning musical "Hadestown" at Playhouse Square this week. Written by Anais Mitchell and directed by Rachel Chavkin, the performance proves that a song can change your destiny.
Making the Cut on Things to Do in Cleveland, OH
In conclusion, there is no shortage of fun things to do in Cleveland Ohio this weekend. That's why it's so hard to come up with a list every week, because we have to pick and choose from the best. From musical performances and sporting events, to cultural experiences and shopping opportunities, there is something for everyone to enjoy. Whether you're a local or just visiting, take the time to explore all the city has to offer and make the most of your time in Cleveland.
If you happen to go to one of the games, swing by Whistle. We're the official pregame spot for the Cleveland Monsters and one block from the Fieldhouse at 818 Huron Rd.